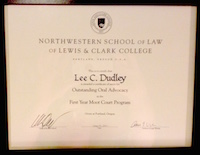 Lewis & Clark Law School
Best Oral Advocate • First Year Moot Court – Appellate Brief 2011
Appellate brief oral arguments held at the Multnomah County Courthouse, April 2011. Judges: Renee Manes, Esq., Michael O'Connor, Esq., Darlene Pasieczny, 2L. Co-Counsel: Mahsa Yaghmaie. Legal Analysis & Writing, Prof. Anne Villella
---
Portland State University
Dean's List • Every Quarter while an undergraduate.
---
Multnomah County, Oregon
DCJ Department Award • Partner Employee of the Year 2008
This award was given by the Department of Community Justice to county employees outside of their department whose work most helped DCJ fulfill its mission.
---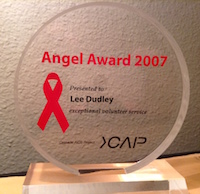 Cascade AIDS Project
Volunteer • Graphic Design, AIDS Walk • 2007
Angel Award for "Exceptional Service"
Awarded for service in designing promotional materials, AIDS Walk brochures, t-shirts, and promotional items, as well as designing the annual report.
---
Idaho's Number 1 Website
The Idaho Statesman as awarded by the Idaho Newspaper Association
Lead Web Designer • 1996 – 2000
---